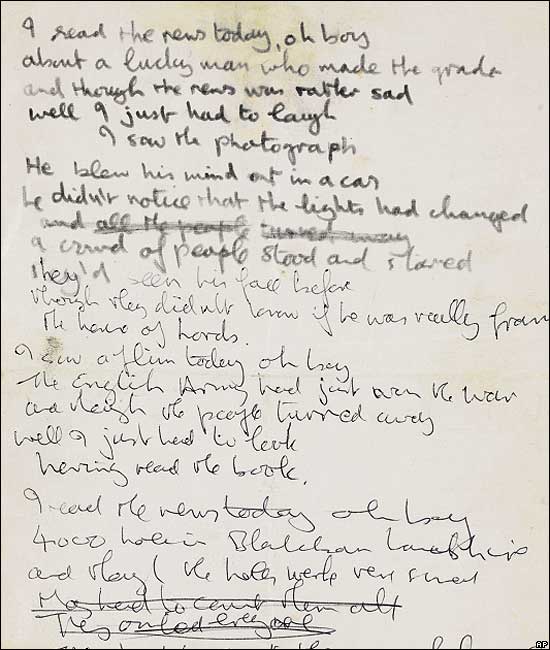 Day Two of NaPoWriMo. The prompt for the day comes by way of The Line Break's Tom Holmes.
Write a poem inspired by the song that was #1 on the day that you were born. (You can find the songs here)
My song is A Day in The Life by none other than The Beatles. This song wasn't actually number one on my birthday, but it was recorded on my birthday, which connects me to some of the best poets of our time. Big shoes to fill, so I decided to just parody their song by inserting things that might happen in a day in my life. If nothing else, it will be a chronicle of my life in 2012. Looking back in the future we may find Facebook, YouTube and Pinterest as primitive sources of entertainment.
Here's my poem, followed by a video of one of the greatest songs ever written.
A Day in This Limerick Called Life – inspired by A Day in The Life by The Beatles recorded January  19, 1967, the day I was born.

I shared a link today online
About the Lavender Town Syndrome
And though I should have read the signs
But I had read just half
of the next paragraph.
Some kids died playing Pokemon
Committed suicide their lives short-changed
Their gameboys pried out of their hands
They'd never played before
Nobody was reassured
The story was just too bizarre.

I surfed YouTube today oh boyI
Two year olds that sing like superstars
Eight million hits will soon be hers
but I just had to post
as I buttered my toast.
I'd love to turn back time.

Alarm went off, hit the snooze,
Dragged my feet into my shoes
Plugged in the iron and woke the kids up,
If things go right we'll leave on time.
Down the stairs and in the Prius
Across the bridge is where you'll see us
Found my way back home and had a second cup,
My hubby's up and now it's time to clean.

I pinned a recipe today
Four thousand calories in one serving
But if the slice is rather small
Calories don't count at all
Now we know how hard it is for me to lose this weight at all.
I'd love to turn back time.
"A Day in the Life" became one of the Beatles' most influential songs. Paul Grushkin in his book Rockin' Down the Highway: The Cars and People That Made Rock Roll, called the song "one of the most ambitious, influential, and groundbreaking works in pop music history".[34] In "From Craft to Art: Formal Structure in the Music of The Beatles", the song is described thus: ""A Day in the Life" is perhaps one of the most important single tracks in the history of rock music; clocking in at only four minutes and forty-five seconds, it must surely be among the shortest epic pieces in rock". From Wikipedia